(Notice) Notification on Application for Re-Entry Permit
from Ministry of Justice
Please refer to the attached documents for the re-entry permit application information. (applicable for the registered foreigners [ARC] residing in the Republic of Korea).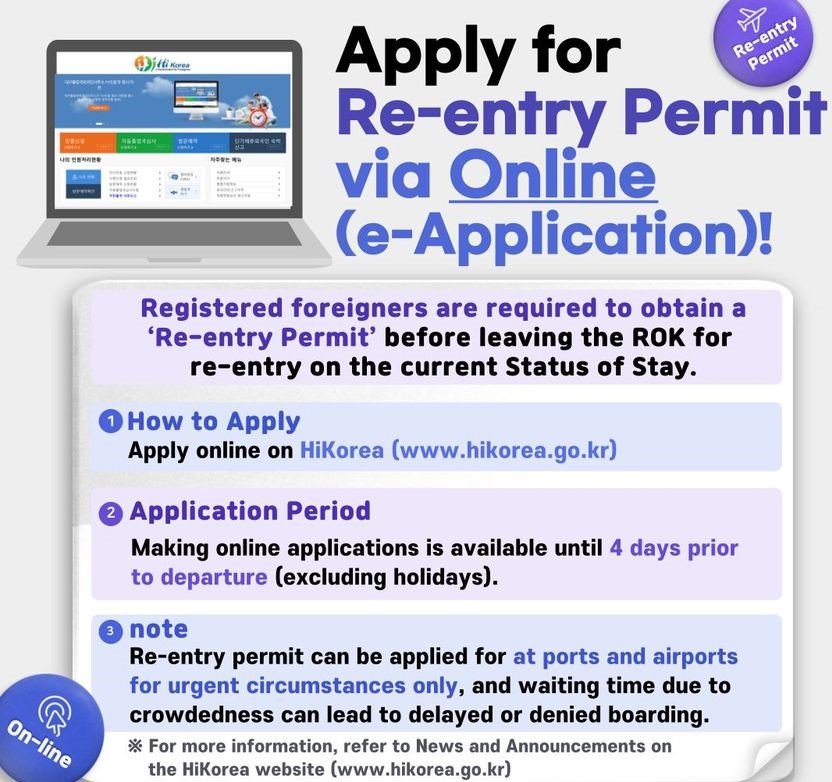 ■ Direct Link for Application : https://www.immigration.go.kr/immigration_eng/1832/subview.do?enc=Zm5jdDF8QEB8JTJGYmJzJTJGaW1taWdyYXRpb25fZW5nJTJGMjI5JTJGNTU1MTE3JTJGYXJ0Y2xWaWV3LmRvJTNGcGFzc3dvcmQlM0QlMjZyZ3NCZ25kZVN0ciUzRCUyNmJic0NsU2VxJTNEJTI2cmdzRW5kZGVTdHIlM0QlMjZpc1ZpZXdNaW5lJTNEZmFsc2UlMjZwYWdlJTNEMSUyNmJic09wZW5XcmRTZXElM0QlMjZzcmNoQ29sdW1uJTNEJTI2c3JjaFdyZCUzRCUyNg%3D%3D

■ The attached documents are for the re-entry permit application notification. This is from the Ministry of Justice (Korea Immigration Service), if you have any inquiries regarding the above please directly contact Korea Immigration Service (Immigration Contact Center) domestically call ☎ 1345 (no area code , Foreign language service available). For more details please find the attached and the Hikorea link below.
■ Effecive Date : '21.12.28.(TUE)

■ Related Link HiKorea : https://www.hikorea.go.kr/board/BoardNtcDetailR.pt?BBS_GB_CD=BS10&BBS_SEQ=2&NTCCTT_SEQ=191
■ Related Link Korea Immigration Service :

https://www.immigration.go.kr/immigration_eng/1832/subview.do?enc=Zm5jdDF8QEB8JTJGYmJzJTJGaW1taWdyYXRpb25fZW5nJTJGMjI5JTJGNTU0OTUyJTJGYXJ0Y2xWaWV3LmRvJTNG
■ Please Check Hikorea Notice Regularly :

https://www.hikorea.go.kr/Main.pt?locale=en
■ Inquiry :
Immigration Contact Center [Ministry of Justice]
☎ 1345 (No area code, Foreign language service available)